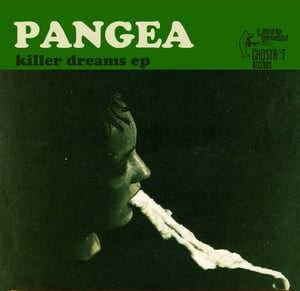 $

5.00
SECOND PRESSING ON OPAQUE GREEN OUT NOW!!!!!
4 song 7" EP, with songs ranging from stoned country to sludgy garage doom and lots of infectious garage pop. One of the best bands in LA!
Here's what Mart Hatt says: "Pangea's Killer Dreams 7" is a kaleidoscope of scenes from the possibilites and poignancy in the endless nights and inevitable mornings. An undeniable weight in both sound and emotion are found in these four radiating tracks. Put on your x-ray glasses and witness beautiful women fainting at the sultry sounds of self-aware monsters and crawling insects."
Tracklist:
A1. Plasma (outtayourmind)
A2. Love & Alcohol
B1. River
B2. Killer Dreams
2nd pressing of 500
500 Opaque Green
1st pressing of 500 (SOLD OUT!)
200 White (sold out)
300 Black (sold out)
GBR001/LR-08
Split release with Lauren Records