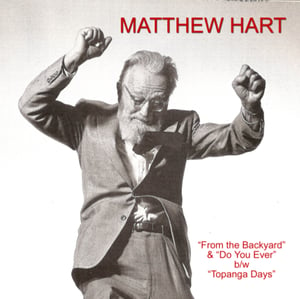 $

5.00
Available March 1, 2013!
Standard Edition (Metallic Bronze or Silver)
First 20 orders will include a Matthew Hart button and unique photo from the recording sessions!
Matt Hart's debut record is reference-laden pop from an old-timey/punk enthusiast. He is the poet laureate of suburban stoners and romantic underachievers. 3 songs of rock'n'roll fetishism.
Mart's backing band includes Prince William Keegan (Pangea), Danny Bengston (Pangea, God Equals Genocide) & James King.
Tracklist:
A1. From The Backyard
A2. Do You Ever
B1. Topanga Days
1st pressing of 250
50 metallic gold (Gold or Trilogy Box Editions only)
100 metallic silver
150 metallic bronze
Ghostbot Records GBR004
***Available in 3 editions:
Trilogy Box: $20 [Gold Box edition with all 3 colors of metallic vinyl]
Gold Box: $15 [boxset as described below, but without bronze or silver vinyl]
Standard: $5 [choice of bronze (150) or silver (100) vinyl]***