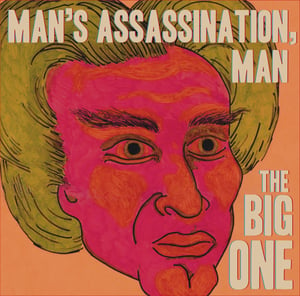 $

12.00
Damn, we are excited about this one! It's been in the works for over a year. Full Color jacket, black vinyl only, limited to 262 copies. First 20 orders come with a free button and unique photo from the sessions.
Man's Assassination, Man is a rock group from Los Angeles, CA that set out to free themselves from all rock illusion and cliche and they failed completely.
Man's Ass, as their friends and fans lazily refer to them, formed out of the pleasure of writing and performing music that they actually enjoyed, which is a rare thing for people to do in Los Angeles. Sure, the riffs are rocking and the grooves are bopping, but there is something inherently sinister in the execution that can't help but reflect the embarrassing nihilism and childishly bad attitudes of the band members. It could be described as some kind of bummer boogie rock, like Van Halen on bathtub drugs. The music is an involuntary reaction to the conformist nightmare of success and douchery that dominates LA life across the board. Taking inspiration from weirdo hippie SST punk, the metallic negativity of Fear and Flipper, the anguished poetry and vision of Chris D and the Flesh Eaters, the rawk experimentalism of Hagerty and Herrema, and the pure freedom and joy of classic boner rock, the band would became more known for being drunk and talking too much between songs.
They played their first show together in 2008 at the now defunct Echo Curio and have since gone on to perform before numerous hostile audiences, opening for the likes of Jad Fair, The Urinals, Abe Vigoda, Plastic Crimewave, and Andrew WK. The band members themselves have been rocking for many years in many other groups and collaborations, such as Residual Echoes, The Mae Shi, Of Aire, Devon Williams, even Thelonius Monster.
Paloma Parfrey of The Sharp Ease and Precious Medals gifted the band with her vocal presence on the album, which was recorded in two days at Mix LA by the talented Andrew Schubert, who is also the proprietor of Ghostbot Records. The Big One is their first and only album. The title is a reference to many things, from the earthquake in Robert Altman's "Short Cuts," Redd Fox, Aerosmith and genitals in general.
Tracklist:
A1. Monster Party
A2. Guru
A3. New Masters
A4. Mr. Johnny Appleseed
A5. The Creeps
A6. Dems Da Breaks
B1. Caveman's Lament
B2. Two Faced Corpse
B3. Tripping Horses
B4. Victory Song
B5. The Big One
B6. Tender Mercies
1st pressing of 262
Black vinyl
Ghostbot Records GBR003