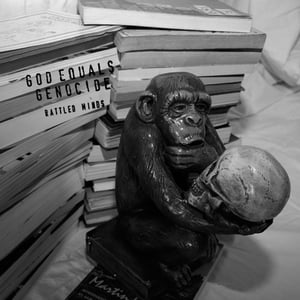 $

4.00 - On Sale
First orders come with an original photo from the recording session and a GEG button. Features members of Pangea, Cheeto Champ, Hotel La Rut, Spokenest and Birdstrike!
GEG's full-length debut! CD, limited to 250, includes exclusive artwork and photos not on the other releases.
The LP out on Razorcake/Dirt Cult Records, Cassette by Burger Records and the CD by Ghostbot.
Here's what Mart Hatt has to offer: "
God Equals Genocide is a three piece power-trash band from Los Angeles. They encapsulate the over the top fucktastic jackassery of having the time of your life with your friends while constantly getting pissed off by the state of the world. They're at times vulnerable but never sentimental, angry but hardly bitter. With unrelenting dual male and female vocals, thrashy riffage, fist pumping melodies, and cowboy chord sing-along breakdowns they provide a respite from the unoriginal and unenthused. If God Equals Genocide was a food they'd be a caffeinated avocado. I think Guy Debord unknowingly described them here: "Young people everywhere have been allowed to choose between love and a garbage disposal unit. Everywhere they have chosen the garbage disposal unit."
Tracklist:
1. Give It Up Front
2. Wasting Time
3. Stranger's Dog
4. I Don't Wanna Wake Up and Be You
5. You're Different
6. Why
7. Give Me A Break
8. A Place
9. Walk Away
10. Get Out Of It
1st pressing of 250
Ghostbot Records GBR002